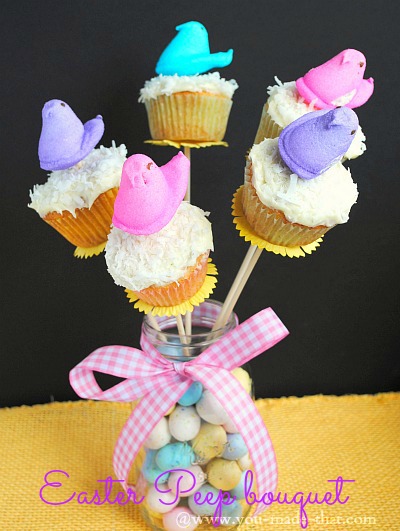 Peeps an Easter icon in edibles that is, I wanted to share with my "peeps" a fun and creative way to use those peeps as a centerpiece for your Easter table. I really don't even like peeps but they are so cute and festive and I can do them as a cupcake topper.  I saw and idea a few weeks ago of a cupcake bouquet and then it came to me "put peeps on top" of the cupcakes for Easter.  I knew the cupcake had to be more dense like a pound cake so they wouldn't fall all the way to the bottom of the wooden skewers, but I wasn't convinced I wanted to use a pound cake recipe.  Then after a trip to my local library I picked up Martha Stewart's Baking Handbook and thumbed through it, I found a recipe that I thought would be dense enough and adapted it for the peep cupcakes.  The frosting is completely my own creation of a cream cheese frosting with lime curd,( that I made previously for lime curd crepes) in it to give the cupcakes a nice citrus taste. If you do decide to make these adorable little Easter cupcakes with a box cake mix then make sure its a pound cake recipe and any favorite frosting would work fine.  If you want the peeps to sit on more of a green grass nest then die the coconut with green food coloring.  Most importantly enjoy spending time with your family and friends this Easter holiday.
Cupcake Recipe
Ingredients:
1 stick of butter or 1/2 c.
1 1/2 cups of all purpose flour
1/2 T. baking powder
1/4 tsp. salt
1/2 cup Greek plain yogurt
1 cup sugar
2 eggs
1 T. of orange, lemon or lime juice
1 T. lemon or lime zest
Equipment Needed:
cupcake pan
cupcake liners
bamboo skewers
candy for jar
glass vase or jar
ribbon
paper flowers (optional)
peeps in different colors
Directions:
Step 1: Pre-heat oven to 350 degrees Fahrenheit. Line muffin pan with paper or foil liners.
Step 2: In a medium size bowl sift together the flour, salt and baking powder.
Step 3: In another small bowl combine the sour cream, lemon juice and zest; set aside.
Step 4: In a mixing bowl beat butter and sugar on med-high speed until fluffy. Add eggs one at a time beating 1 minute after each.
Step 5: With the mixer on low speed begin adding flour mixture then yogurt mixture in 4 increments ending with the flour. Do not over beat, just until combined.  The batter will be thick.

Step 6: With a ice cream scooper, scoop out the batter into each paper liner until 2/3 full.  Should fill about 17 liners. Bake for 25 minutes, take out of oven and let cool in pan for 15 min. then turn out onto cooling rack.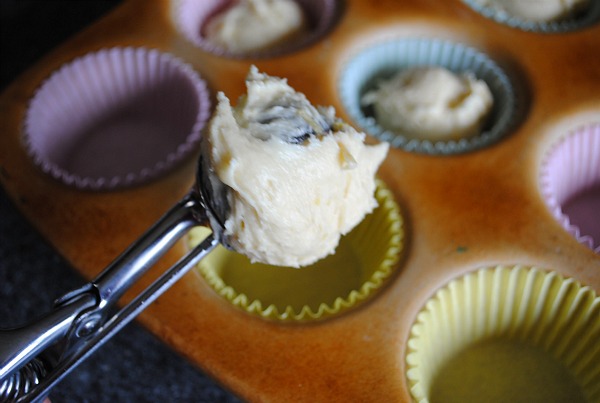 While the cupcakes are baking get your skewers ready.
I used a 1 quart glass jar and filled it with malted chocolate candy eggs, but any candy will do, like; jelly beans, candy kisses, whatever it is you like or is cheap.
Take the skewers and add the paper flowers (I found them at the dollar store or any scrap booking store should have them).
I used 6 skewers for my jar because anymore and the cupcakes would have touched one another but that really depends on how you like your bouquet to look.
While cupcakes are cooling make the frosting.
Making the Frosting:
Ingredients:
1 stick of butter at room temperature
4 oz. of cream cheese at room temerature
1/4 to 1/3 cup of lime curd
2 cups of powdered sugar
Directions:
Step 1: In a large mixing bowl with the paddle attachment beat butter for about 30 seconds, then add the cream cheese and beat together for about 1 minute.
Step 2: Add the lime curd and  beat well.
Step 3: Turn off mixer and add 1 cup of powdered sugar then mix on low until all incorporated.  Then add second cup and beat well.
Step 4: Frost each cupcake and dip each one in a small bowl of coconut if desired.
Step 5: Take out one of the sticks that is ready to go and gently press the cupcake on, not to far down, then add one of tthe peeps on top of skewer trying not to poke all the way through.  Gently put back into glass jar, and repeat.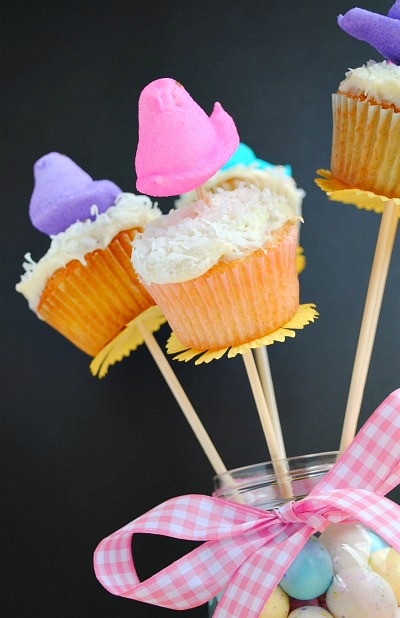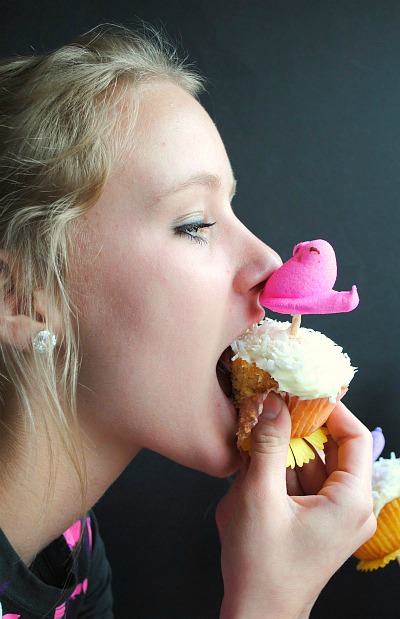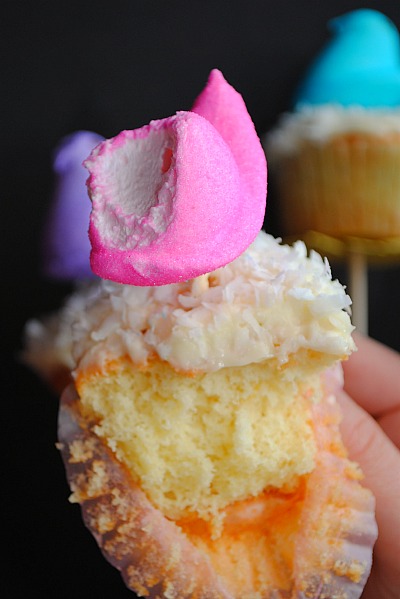 My taste tester liked these cupcakes, now its your turn.
Linked to: Foodie Friday by: Designs by Gollum, A Prairy Story