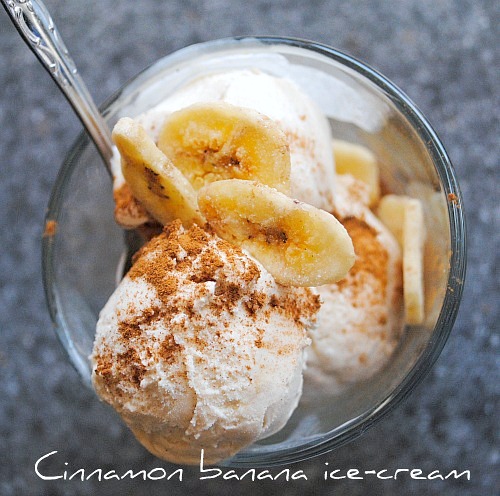 I frequently crave ice-cream probably because one of my earliest memories was that of going to get ice cream with my family, so I learned early on ice cream made my world a better place.  It always took me forever to decide which flavor I wanted, but it never changed for the longest time "orange sherbet".  I've long since branched out into the ever multiplying rainbow of  flavors although I still have a difficult time choosing a flavor, not because I'm picky but because I like so many of them.
I have a favorite ice-cream shop that I like called the "Marble Slab", they have some of the most amazing ice-cream there is.  One of the flavor combos I like there is cinnamon ice cream with a banana mixed in and caramel on top..heavenly! My palate almost never tires of cinnamon or banana flavors with cookies, cakes, bread, candy, and now ice-cream.  Not sure what it is about these two flavors that tantalizes my taste buds but I'm just glad it does.  I set out to re-produce the ice cream I crave and I think it turned out pretty darn good.  The recipe is for a small counter top ice cream maker not the 1/2 gallon size most of us are familiar with that uses ice and rock salt.  If you don't have one of these ice cream makers, I suggest you put your order in for some up coming holiday or birthday celebration because its so wonderful to have handy.  This ice-cream can't get anymore natural unless it came from the cow all made up hm…wouldn't that be a nice thought 🙂 .  The recipe calls for sugar, eggs, cream, a banana, and a splash of  real vanilla, there's no cooking just mixing with a hand held mixer, pour then turn on the "on button" and your good to go.  What are you waiting for let's make some ice cream!
5 Ingredient Cinnamon Banana Ice Cream
Ingredients:


1 ripe mashed banana
1 cup sugar
2 eggs
2 cups whipping cream
dash of vanilla
Directions:
Step 1: Assemble the ice cream maker except leave the frozen bowl in the freezer until the mixture is ready to pour.
Step 2: Mash one ripe banana in small bowl.
Step 3: Beat 2 eggs on high until light in color, turn speed down to medium speed then slowly add the 1 cup of sugar while beating.
Step 4: When the sugar is all incorporated turn the mixer to low and add the cream and banana and the dash of vanilla.
Step 5: Take out the freezer bowl and pour the cream mixture into the ice cream making bowl and attach to the ice cream maker and follow manufacturer's directions.
Step 6: When ice cream is done either because the mixer stopped or slowed considerably turn off machine and using a rubber spatula scrap out into another freezer safe plastic bowl with a lid and freeze for several hours or over night.
Garnish with caramel, dried bananas and or chocolate chips!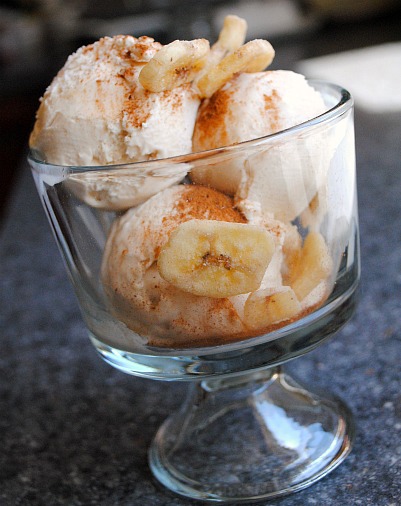 Linked to: Dining with Debi